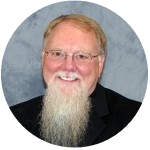 Father Terry J. Hedrick, Ph.D. +
A native of Wichita, KS he did not grow up in the church and was converted to Christianity during his senior year of high school (1970) and shortly after received a call into vocational ministry. Since then he has spent his life passionately and diligently fulfilling that call as a pastor/teacher and now professor. Following graduation from Central Bible College in 1975, Terry spent two and half years in Yugoslavia on a mission assignment teaching Theology and Biblical studies training young ministers at BTI, Biblical Theological Institute in Zagreb, Yugoslavia. When he returned home he and Julie were married in 1978. They returned to Europe to work with a mission to University Students at the University of Leuven in Leuven, Belgium. During this time Terry completed a master's degree in philosophy at the University of Leuven.
Upon their return to America in 1981, Terry pastored for seventeen and a half years at Church of the Savior in Wichita. In 1998, Terry was ordained as "Father" Terry in the Charismatic Episcopal Church and began Church of the Resurrection. He also served on the pastoral team at Chapel Hill United Methodist Church from 1998 to 2013. He has taught theology, religious and biblical studies at instiutions such as Friends University and Southwestern College since 1994.
Fr. Terry is one of those unique people who is both a lover of Theology and Biblical Scholarship and a lover of people. He holds a Master's degree from Friends University and his Ph.D. in New Testament Theology from Durham University, England with his Ph.D. dissertation, Jesus as Shepherd in the Gospel of Matthew. Fr. Terry and his wife Julie have two grown daughters, Tera Lee and Jaimee Anne (married to Philip) and two granddaughters, Evie Marie and Carly Ann, the loves of his life.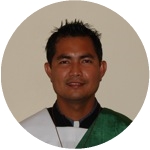 Deacon Art Ballos, M.A.
Deacon Art was born on All Saints Day (November 1st) in Gubat, Sorsogon, Philippines. He grew up as a devoted Roman Catholic and was active in the Catholic Charismatic Movement during the early years of his Christian life. He was introduced to the International Communion of the Charismatic Episcopal Church (ICCEC) by Deacon Peter J. Reimers during his freshman year at the University of the Philippines (Los Banos Laguna). Upon graduating from college, and after completing the education and ministry training required by the ICCEC in Southeast Asia, he was ordained into the Diaconate in 2001.
Art got married to his wife Dulce on January 23, 2002 and they have been blessed with four children Michael, David, Sophia, and Gabriel. Deacon Art has a B.A. degree in Secondary Education with a Major in Physics and an M.A. degree in Teaching. God moved him to Wichita in August 2006 when he accepted a teaching job at Wichita East High School where he serves as a science teacher. Shortly afterward Art begin attending Church of the Resurrection CEC and his ministry as a deacon was officially transferred to this congregation. His wife, Dulce, is also active in the ministry. She is a gifted Liturgical Dancer who dances each week in our services.
As an educator in God's Kingdom, Deacon Art says, "My dream is to get my Ph.D. in Education and enroll in seminary to be fully equipped to do the work of the saints and expand my ministry. My heart's desire is to reach out to different people and cultures. I want to be a living testimony of God's faithfulness in our lives and be an instrument of His great love to different nations, languages and cultures."